Food Recycling and Smart Technology
Working with Hills Waste Solutions (HWS) ADSL have operated a 'zero to landfill' service on PAC for over two years and during 2016, as part of a drive for continuous improvement, introduced Food Waste Recycling and Measuring Waste Sensor Technology.  Both of these initiatives support the MOD's strategic objective of reducing the environmental impact of waste management.
Food Recycling
Collaborative working between HWS and Sodexo was essential to make a success of the new Food Recycling initiative, resulting in a potential 10% diversion of general waste to recycling. Over the last year HWS has  trialled the separate collection of food waste at Swinton Barracks, Perham Down, in partnership with Sodexo and under the direction of Aspire.
Specific colour coded containers for food waste were placed at the Superdiner, Sergeants mess and the Officers mess during September 2015 and staff were asked to segregate their food waste from general waste to reduce the amount of residual waste that was going to recovery and to increase recyclable material.
The results of the Swinton trial clearly showed that on average 40% of the residual waste generated was food waste either from the food preparation process or general food wastage. When this calculation was extrapolated across TidNBul garrison it represented over 4.5 tonnes per week which could be recycled, potentially increasing TidNBul's recycling by over 6%.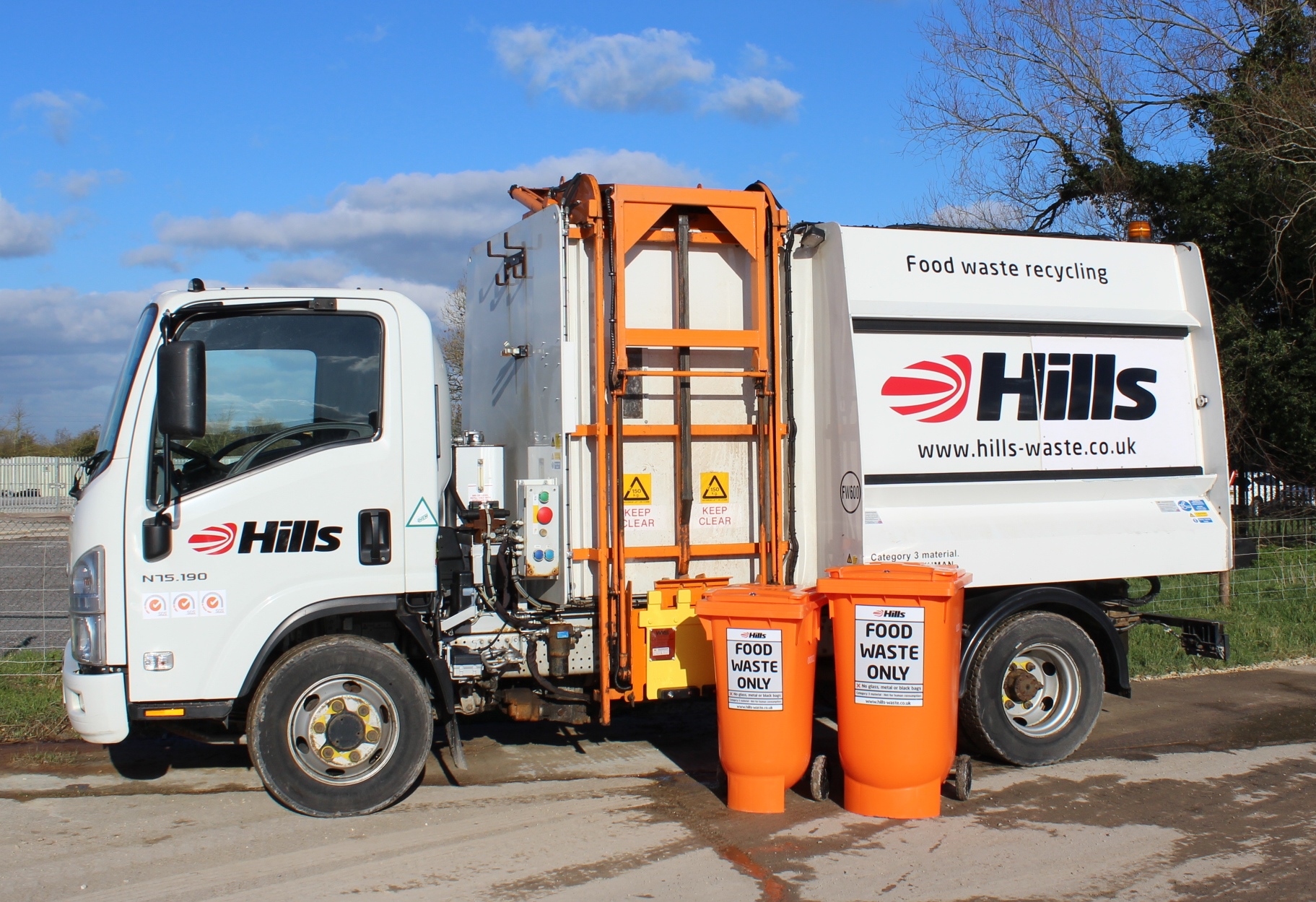 There were additional benefits as well.  All the food waste collected is 100% recycled using a process called Anaerobic Digestion (AD), which turns the food waste into renewable energy.   Also, the resulting slurry from the process is used as an organic fertiliser.
The success of the trial resulted in agreement that HWS would supply specialised food containers to all PAC's major food producing assets across Salisbury Plain. In preparation for the rollout, training guides using Powerpoint slide presentations were supplied to Sodexo and their staff showing what types of waste could be placed in the containers.  Over 70 food waste collection containers were delivered during October 2016.
Whilst this new service is in its infancy it has been embraced by Sodexo staff and HWS has been collecting 6 tonnes of food waste per week which should result in a recycling increase of 10%.
This change in process has moved food waste up the Waste Hierarchy ladder from a recovery process to a recycling process with a reduced carbon footprint.
Waste Sensors
Waste sensors are a new technology, currently used by a few local authorities in the UK, but not yet in a commercial setting.  During a trial last year, sensors were fitted under the lids of selected bins on garrisons. Information collected by the small, battery-powered, wireless sensors is gathered and analysed by waste data company Enevo ONe, allowing HWS to constantly monitor the levels of waste and recycling in its containers and identify those which need emptying.
The trial was such a success that all the waste collected from Aldershot garrison under the HWS contract will be now be collected using this system.
Gary McKinnon said:
"At Hills Waste Solutions, we are committed to providing an excellent service and providing added value for the customer. We set performance targets within contracts and innovate to achieve them – in this instance we agreed with Aspire to improve the efficiency of the waste collections and so we installed the innovative Enevo ONe Collect system.   It is the first commercial launch of this product and has strengthened our relationship with Aspire."
6,000 tonnes of waste are collected from the garrisons each year for recycling and re-processing.  Measuring waste using sensor technology places ADSL and our customer at the forefront in the application of smart technology, reducing our environmental impact and safety risk by reducing the number of vehicle movements.  Following the implementation of sensor technology at Aldershot, HWS was able to decrease core waste collection frequency, dropping CO2 emissions by 25%.
Top