Posted - 17th July 19
Batman saves Robin!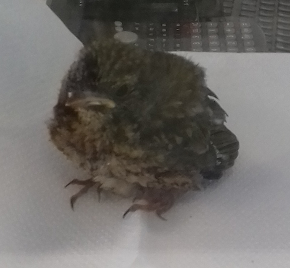 Aspire Defence's very own 'Batman' recently completed a daring rescue of a robin.
In a slightly different mission to his normal bat work, John Langdon (licensed Bat Worker for Aspire Defence Capital Works – ADCW) received an emergency call. A tiny bird had been found in a storage area of a working site.
Section Manager Jason Morgan had saved the helpless bird from the surrounding construction hazards, taking it in a box to ADCW's site office.
When John arrived, the feisty young bird had escaped and was happily exploring a dark cupboard. John, ably assisted by Sisi Seru, Project Administrator, carefully recaptured it. They returned it to a safe area of ground under a hedge, near the site where it was found, away from the construction works. John and Sisi retreated and within seconds, the parent robin had flown in and was reunited with its baby, which tweeted to the world the happy news about its recent adventures.
Sensitive construction support work of this nature is fundamental to ADCW's commitment to protecting and enhancing biodiversity.  With the intensity of our work this year for the Army Basing Programme, there have been a number of times when birds have chosen either to nest within or very close to ADCW's working sites.
Although this presents a challenge – no works that disturb nesting birds can be undertaken until the young have left their nests – there are often simple solutions which prevent delays to construction, involving small changes to working practices. These may involve creating a 5-10 metre exclusion zone around an active nest, minimising noisy activities close to the nest and not moving materials that could disturb the nest, or leave it vulnerable and exposed to predators.
If you're interested in learning more about bird protection measures, contact the ADCW environmental team: environmental.mailbox@aspiredefence.co.uk
You may also like...
Top