Posted - 14th May 18
Local pupils gain insight to construction careers
Pupils from a secondary school in Andover have gained valuable insight to construction careers, following a visit to the Aspire construction office at Larkhill Garrison.
A group of Harrow Way pupils in Yrs 9 and 10 (aged 14/15) visited Aspire Defence Capital Works (ADCW) on Tuesday 1 May accompanied by teachers Kevin Peebles, Associate Senior Leader, and Karen McCullough, Assistant Year Leader.
The visit was organised by Allan Thomson, Chief Executive of Aspire Defence Limited (CE ADL), who is a governor at Harrow Way, and Paul Dempster, Managing Director ADCW.  It was offered to students considering their options beyond GCSEs who might be interested in learning more about a career in the construction industry.
After a quick presentation at the ADCW Project Office to explain what Aspire Defence does, the group was taken to the vast Army Basing Programme technical build area at Purvis Lines, so they could get up close to the construction underway.
There, ADCW Section Manager Anna Taylor organised a 'Q&A' with groundworks and engineering sub-contractors, so the pupils could hear about what a job on a building site might involve day-to-day (see photo below).  The students also learned about the technicalities of steel frame buildings, from precision foundation laying to different types of masonry work.
Richard Tindal, Project Director Larkhill ADCW, then led a minibus tour of the Garrison, passing the Junior Ranks' diner under construction and stopping off at the completed (unoccupied) Junior Ranks' Single Living Accommodation (SLA).  The students were impressed by the standard of soldiers' bedrooms and chatted to Section Manager Niels Andersen about where he has travelled in his career and the various construction projects he has overseen.
The bus returned to the ADCW Project Office just in time to see one of the first modules being craned in to Senior Ranks' SLA, at the site of the new Triple Mess.
To close the visit, the pupils were shown around the Project Office by Paul Dempster to give them a feel for the working environment on site (see photo below).  Several female ADCW staff were also on hand to talk about routes into construction because it is an industry where women have been traditionally underrepresented.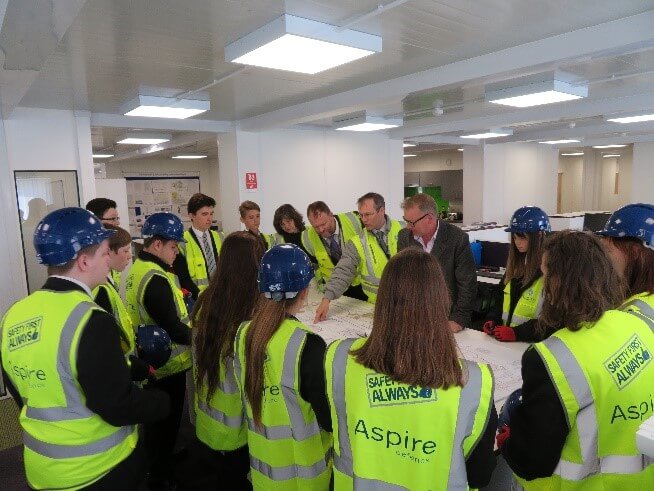 The pupils left with an Aspire Defence goody bag containing a scientific calculator, maths equipment and a hard-hat shaped 'stress ball' (handy for exam season!).  And they took away some interesting impressions too:
"There are a lot more jobs in construction than I realised."
"Construction sites are a lot cleaner than I thought they would be."
"It's good that there are jobs for women in construction."
Their teacher Kevin Peebles said it had been "one of the best organised visits" he had experienced, with "insight upon insight" to keep the children engaged throughout.
"They were really buzzing when they returned to school and I am sure the opportunities will have captured many imaginations."
Allan Thomson said:
"School children are the employees of the future, so engaging with them at an early stage is a really worthwhile exercise for any business and hopefully helps them make informed decisions about their further education and career path.  We were delighted that the staff and students enjoyed the day and found it useful, and I'd like to personally thank the team at ADCW for laying on an excellent, varied programme.  We hope to host more visits to the Project from local secondary schools in future."
Photo caption:
Top – Harrow Way Yr 9 & 10 pupils at the ADCW Project Office Larkhill with (far left) Allan Thomson, CE ADL and (far right) Richard Tindal, Project Director Larkhill, ADCW.  Teachers Karen McCullough and Kevin Peebles are pictured in the white hard hats.
You may also like...
Top