Posted - 10th July 18
Work begins on new Medical & Dental Centre for Larkhill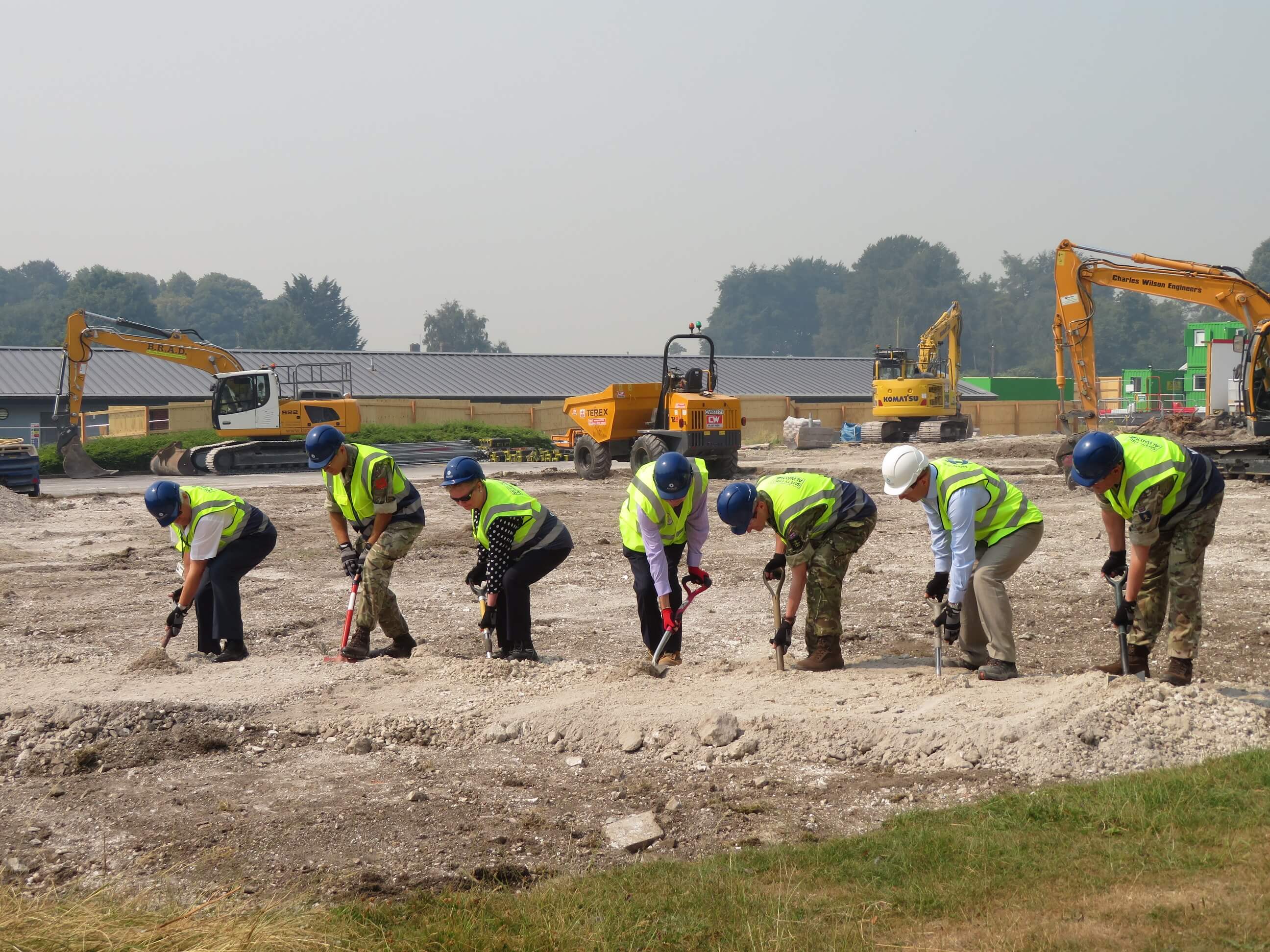 Construction is underway on a brand new Medical & Dental Centre in Larkhill, Wiltshire that will enhance local healthcare provision for soldiers, their families and local NHS patients.
On Friday 6 July, Army Basing and Aspire Defence were joined by representatives from Defence Primary Healthcare (DPHC), the NHS, Larkhill Garrison and the local Councillor for the Durrington & Larkhill Ward, for a special 'ground-breaking' ceremony at the Medical & Dental Centre construction site.
As a result of the ABP, about 4,000 extra troops and approximately 1,300 Service families will be based in the Salisbury Plain area, with the majority arriving in 2019.  This has resulted in an increase in capacity required for Primary Health Care in the South West Region. The state-of-the-art facility is being delivered by Aspire Defence Capital Works (ADCW) to support the Army Basing Programme (ABP).
The new building is designed to be contemporary, light and open, to help promote patient wellbeing.  It will accommodate Army Medical Healthcare, Army Dental Healthcare and NHS Health Service, providing separate clinical and administration areas for each provider with a shared entrance and waiting area.  As it is located near a World Heritage Site, the building's external appearance is low-lying with an inclined canopy pitched roof, which is at a lower level than the main roof, to visually reduce its height and mass.
Mark Duddy, ABP Programme Director, said:
"We're delighted to have reached this key milestone in our four-year construction programme.  A huge amount of progress has been made so far, with a number of units already moved to or from Salisbury Plain. We're working closely with Wiltshire Council, other government departments, local service providers and NHS England to ensure infrastructure, housing, education and health provision is in place as troops and their families move."
Debra Elliott, Director of Armed Forces Health Commissioning (Operations) for England, NHS England South West and Dr Richard Sandford-Hill, Chair of Wiltshire Clinical Commissioning Group said:
"The provision of health care services as part of the Army Rebasing Programme is an important consideration for residents and returning families in the local area. We are working closely with the Ministry of Defence and support in principle their plans for a new medical and dental centre at Larkhill."
Allan Thomson, Chief Executive of Aspire Defence Limited, said:
"This is a significant asset which represents the positive legacy our ABP construction programme is creating, not just for military and civilian personnel in the Larkhill community but across Salisbury Plain.   Progress across all our build sites remains on track to deliver the single living and working accommodation required to bring soldiers home from Germany in 2019."
In total, the MOD is investing more than £1Bn in infrastructure in the Salisbury Plain area, providing around 1,300 brand new homes for Service families, some 2,600 new bed spaces for single soldiers and the construction, conversion or refurbishment of more than 250 other buildings, such as offices, garages, workshops and Mess facilities.
The new Medical & Dental Centre is due for completion in early 2020.
The event was also attended by pupils and staff from the neighbouring Larkhill Primary School, who were celebrating their recent success in a national hoarding design and decorating competition.  To enhance the appearance of the construction site the children painted eleven hoardings, using scenes inspired by the local environment, and were announced runners-up of the Ivor Goodsite competition, which is organised by the Considerate Constructors Scheme.
You may also like...
Top